Name:
Gardrim Ralyindare (Elfish: keeper of the winds)
Class:
Shapeshifter
Alignment:
Neutral
Race:
Sylvaan Elf
Advantages:


--Forest Blending: Sylvaan elves almost always have an advantage while in the forest. Their nature allows them to hide with very little effort.
--Hawkeye: Because they live in the forest, it's to no suprise that they have excellent vision. This allows them to aim better and spot things with greater ease.


Disadvantages:


--Bulky: Sylvaan elves are not as agile as everyone else. Their bulk prevents them from becoming good agility classes.
--Out of Habitat: Sylvaan elves do not usually go out of their element, the forest. As such, they seem to stand out. They never tread lightly because they were never taught to do so, etc.
Inventory:
Nothing
Gold
: -3gp
Biography
Gardrim has lived for hundreds of years in the various Forest acting as both a protector and inhabitant.
Little is known about his origins and he seldom speaks to others about his past. He is in fact a friendly person to anyone who doesn't threaten nature or the forests. He seldom leaves the forest or has much contact with people. When he dose and it is a friendly one, he makes merrymaking and tells tales and sings songs of nature and the glories of Elven past. When it is not so much of a friendly meeting he unleashes the fury of nature upon the poor fools who dare offend the Forest.
Physical Description:
--Height:6'6
--Weight: 240 pounds
--Eyes: Green
--Hair: long a mixture of brown and dark Forest green
--Skin: pale Brown if washed, but appears in multi-shades of earthy and dark green colours.
He is one with nature almost literally his body is covered in mud and plants and moss and fungi. People have mistaken him for some kind of vial Forest giant due to his massive size and almost unrecognisable looks from a distance. He stands at about six feet six although is usual hunched to reduce his actual visual size. His shoulders are broad and muscles huge, he has a dark brown beard and is defiantly a sight to behold and a very unique character.
Skills
Fist of the Forest
– Medium
Gardrim is huge in both height and muscle. Like his brethren he is bulky but more with muscle than fat his movements are nether swift nor quiet but his strength is something to be feared. Over the years he has come to realise that weapon are useless for someone who loses them often, so spends most conflicts when still human using his natural weapons his fists. His punches are strong, he has very little technique and even littler agility than usual in his race but packs a mean punch. In affect he his marginaly stronger than a normal Sylvaan Elf bordering on a strong increase but he's also has far less agility and is a huge target.
Part of the Forest
– Weak
More for keeping his modesty but somewhat for helping him hide his skin and body is deeply camouflaged in mud and leaves and bits of plants. Although he wears no cloths as to call them clothes his body has become home to several tangle plants and moss and even the odd mushroom. When transforming they disappear with his normal body the things have become part of him. This increases his natural Forest hiding ability. looking at him up close he is clearly still a elf however.
Heart of the Forest
– Weak
Gardrim's actual age is unclear he spends most of his life in the Forest in solitude other than the animals and plants of the Forest so has had no need for such as number. He has almost become a legend among other elves as to his existence. Due to years of living in the wild and his massive amount of muscles he is quite resilient this added to his body covered in mud and plants with years of enduring scratches and scrapes in the Forest and bushes. because of this he can take punishment better than most giving him some defence against blunt attacks. Due to his bulk though he is not the most agile warrior when in human form.
Transformations
Wildcat
(Felis silvestris) – Weak
http://upload.wikimedia.org/wikipedia/c ... ze_002.jpg
The wild cat is a close relative of the domestic cat. They have many sup-species all around the world. The European being the largest at about 80cms in length not including the 30cm tail and it stands at its shoulder at about 35cms. It may not be the biggest or strongest creature in the world only just stronger than its domestic cousin. The real strength of the creature comes from its speed and agility, and has particularly sharp claws for fast attacks. – 3 posts
Ethiopian wolf
(Canis simensis) – Weak
http://upload.wikimedia.org/wikipedia/c ... nWolf1.jpg
The Ethiopian wolf is a smaller relative of the wolf. It is about the size of a medium sized dog. It doesn't have the power and strength of its larger relatives but can still deliver a good bite. It has often been mistaken for a fox due to its red coat and fox like tail. It thrives in high up climates able to deal well with low temperatures. It has excellent sense of smell and hearing. – 3 posts
Elk
(Alces alces) -Medium
http://upload.wikimedia.org/wikipedia/c ... lmoose.jpg
Also known as a moose. A bull Elk stands at almost 2 meters. They are immensely strong and can deal a good amount of damage if they charge using their antlers. They are fast in a straight line when charging but it makes for turning extremely difficult. They have some defence against blunt blows due to their fat and muscles but it offers no defence against blades and arrows and can be a nice big target because of this. – 4 posts
Pets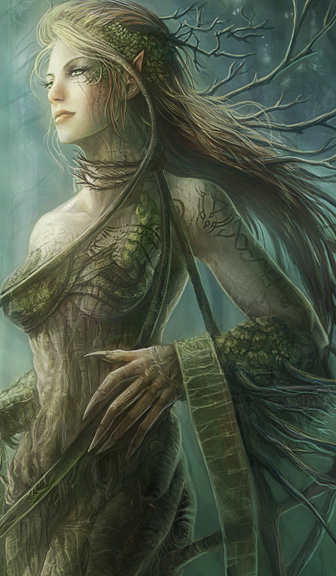 Name:
Edriél
Race:
Dryad
Appearance:
5'4, pale slightly green tinted skin with a light bark like texture, leaf green eyes. Blond long flowing hair, flows to twigs in places.
Dress: Naked, exempt for the leaves and vines that cover her.
Skills:
non
Specials:
Thorn of the rose
Thorn of the Rose
– Medium special
Edriél Charges forwards in an erratic and fast zigzag motion towards her opponent. Upon closing in she thrusts out her arm, fingers outstretched. Her hand becomes covered in rose flowers, and quickly extending from her fingers is a large spike-like blade of wood. The blade is similar to a long sword in terms of length sharpness and durability. After striking the blade retracts back into her hand and the roses close back into buds and disappear.
[note: the original zigzag charge is optional]
(2 uses per battle)