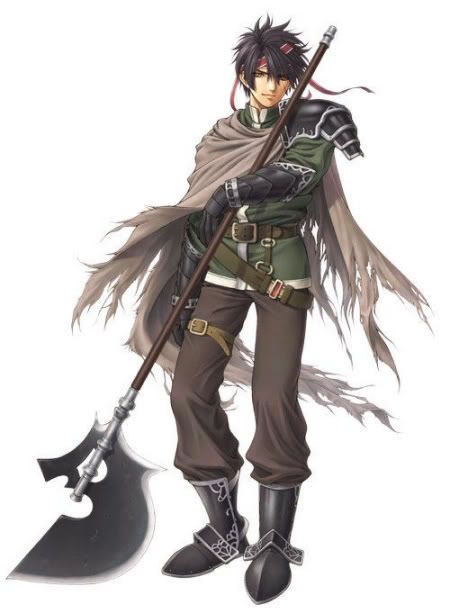 Name: Joshua
Class: Guardian (Martial Artist)
Race: Human
Alignment: Good
Inventory: Jasmine, Yalan (& Josephine), gold ring (speed jewel), gold ring (strength jewel), Soled, Aspiring Fists(strength jewel)
Gold: -14
Spells: None
Pets: None... Yet
Specials: Ki, Ki Fist, Ki Strike, Wind Strike, Rejection
Skills: Claw Control,
Ki Sight
, Staff Art, 1st Ki Control, Sword Art, Free Mind, Eye of Providence, 2nd Ki Control, Physical Spirit, 3rd Ki Control
Pet Specials: none
Pet Skills: None
Other: he was blind now he can see
Unclaimed rewards: none
Achievements:
Champion of the KOTH Event
CUSTOM ITEM
Jasmine:
To the unknowing it appears to be an unusual shaped halberd but it is far from it. It stands at about 2.2m in length with the axe blade taking up 2 foot of that length. But it it is a bit heavier and a bit slower than a bow staff. This Staff has a secrets There are two long chains hidden in it's length so that at will Josh can seperate the staff into three peices attached by by two chains so it is a three sectional staff. It was forged from an alloy long lost from the world which makes it the blade part weigh far less than it should.
Yalan (& Josephine):
On first appearances Yalan is a simple quarterstaff, wooden and smooth though with a dent here and there from use, However it houses within it an item far more dangerous, and more beautiful; the sword Josephine. A small spring operated mechanism locating inside the staff allows Josh to daw the blade at any time, however this is normally reserved as a last resort, and he's the only one that knows how. Once removed, Josephine is a picture of elegance, a blade of a pure silver colour, reflective and unmarred along its surface and with a fine cutting edge. Oddly enough Josephine has almost no crossbar, only a small circular guard that sticks out a mere centimetre and a half from the top of the handle. A handle wrapped in the finest of materials, to give it grip and perfectly fitting to Josh's hands, the pommel was small once again only flaring slightly to prevent any hands from slipping off, and from the bottom of the pommel, in contrast to the silver theme hung a golden tassel adding to the swords beauty. The blade itself was similar to a spatha only a little longer, a bit thinner and could travel faster through the air.

Soled:
Steam Operated Light Emitting Device; An orb of gnomish invention that, 50% of the time, emits a bright flash when it strikes a hard surface. The other times, it just... duds out. By cranking a small lever on the orb for a bit then throwing it, Josh can (sometimes) heavily disorient his foe(s) for a single post. (A mod will tell you when and when it doesn't work). 1x per battle [Custom Item]
Aspiring Fists:
A pair of polished steel plate gauntlets that where made especially for Darious; commissioned by his master as a parting gift to help Darious make it in Darkness Incarnate. While the gauntlets look like they are made of simple stainless steel, they metal is actually a very rare alloy that results in rather light weight gloves that are sturdier than most common metals. The gauntlets reach half way up Darious' forearm, and are tightly fitted to stop any movement.
Upon judging and punishing Darious in battle, Darious decided that perhaps this wasn't the life for him and he gave Josh his gauntlets so that his masters legacy would carry on, it didn't take long for Josh to find a magician who could alter the gloves to fit him as perfectly as they had Darious
Physical Description
Size: 6 foot
Weight 70kg
Age: around about 18
Hair: Black
Eyes: Gold
Scars:
-Circular scar over heart
-Inch wide scar lower right hand side of back inflicted by Ein
Dress: As in picture above minus the metal armour
-Two scars across his left palm the exact width of Ein Ambush Dagger...
Strengths:
-Unarmed combat
-strategies
-Staff combat
Weaknesses:
-over confidence
racial skill
Free mind:
The Guardian Spirits were always with Josh, no matter where he ewent they were always there in his head, always keeping him company so he was never alone. As Josh had a fear of silence and being alone this was a good thing, but all these extra entities took up a lot of room. Now that they have left him to fend for himself far more of Josh's mental capacity is open to him allowing him to process information faster than he could before, one plus side of this is it improves his reflexes while another is that anything that strains his mind does so less. Unfortunately without being in his mind Josh is now alone when he's not around people so is less trusting than he used to be suspecting all that he doesn't know of trechery unless it is proved otherwise.
_____________________________________________________________
Special Descriptions:
[m]
Ki:
Ki is the art of turning one's will into near invisible force. When ever the martial artist throws a punch, kick, ect. they can use Ki to project it into a ranged technique. This fatigues them more than simply throwing a normal punch or kick since they have to compensate for the distance and it will deal just as much damage as a normal punch or kick. (5x)
Even the simplest attacks can be the most diverse
[w]
Ki Fist:
Joshua has Mastered the art of channeling his Inner Energy, his Ki. One such way is to Draw Ki into one of his fist and concentrating it there so that when he strikes something the energy is released making the blow far stronger than it would normally be. However the energy drained is proportional to the amount of force he wants to strike his opponent. because of the energy drained from him is so high he can only do this 3 times per battle.(3x)
Sometimes a simple enough attack is simply more than it appears
[m]
Ki Strike:
Leon's Lion's Roar technique taught Josh one thing in particular, that his Ki Fist wasn't strong enough. So Josh refined his attacj, performing it over and over, experimenting new ways to store and release the energy. Eventually, he came up with the Ki Strike. Ki Strike can be released in two, different forms. The standard form works exactly the same way as Ki Fist, except it is more efficent (i.e. Josh gets more bang out of less energy out in). In the second form, Josh can charge his fist, letting ki stir within him one post, to increase the strength of the blow. However, the opponent has a high chance of knowing it is coming because, while it charges, his hand glows with the colour of his current style. (2x)
because one simply wasn't enough
[m]
Wind strike:
Josh?s ability to control both his body and his Ki continues to grow, and his latest technique is the wind strike. Josh performs a strike with such speed and potential that the air itself is becomes a hurricane, or at least that?s how a story teller would say it. It reality it depends on the strike how the force is released, from a blunt surface like a fist, the wind explodes outwards in a wide spread add hit?s fairly hard, but due to its wide area of effect is only strong over a few metres. If launched from something with blades in a slash then the wind is released in a crescent moon wave, hitting with concentrated blunt force, it travels far further then from a blunt object but it only hits where the wave hits so has a smaller area of effect. (3x) (a more versatile version of Ki, either short range with higher spread or longer range with almost no spread)
If you won't come to me, then my Ki will come to you
['08patch]
Rejection:
For this technique, Josh must gather his energy. This takes at least 1 post and he can continue to charge up to a maximum of 4 posts, during which, he is unable to use any ki-related abilities. Then, he unleashes all this pressure in a single blast. Though the blast doesn't cause any damage, the shoving force behind it is decently powerful. Additionally, the size of the blast is larger than a regular Ki and it travels for a decent range before diffusing. These effects increase the longer it is charged. 1x per battle
What I really reject is your pitiful beliefs thinking oyu could attack me so
_____________________________________________________________
Explanation of Skills:
[m]
Ki Sight:
Joshua Sporadically sends off small waves of invisible and almost undetectable Ki (other martial artists and magic users could detect them.) these waves move at a rapid pace and bounce off Solid objects giving Joshua a black and white slightly blurred image of his surrounding allowing him to more easily locate his opponents. (easier it can be avoided like if you are behind a wall the ki won't pass through) Joshua Can choose to turn it off and often does so because constant Exposure to all this constant extra information causes headaches which will get consistently worse and worse. (yes i will add this to my battles so that after awhile my characters head will really throb so he is forced to turn it off for awhile.)

They called my blindness a Disability, I called it a Challenge
No longer exists but keeping here as a memento of what was
[w]
Claw Control:
Joshua Uses his Ki to Manipulate the metal in his claws allowing him to turn the blades into liquid and sucking it back into the glove so that he can form a fist without the blades cutting him. Using this skill he cannot cause the Claws to grow beyond their original size only make them smaller or not be there at all. Cannot shrink then grow in same post. (if he decides to punch in a post that's all he can do no slashes)
[m]
Staff Art:
As a martial artist it is only natural that Joshua learn the use of several waepons during his training, one of these weapons which he has now aquired is a the staff. Through training he has developed a good proficency with this class of weapon and has learnt to channel his Ki through it so that Ki specials can be released from the staff instead of his hand (eg ki fist activated at staff or shooting a ki attack from it)
[w]
1st Ki Control:
Josh has further mastered his control over his Ki allowing him to focus it in his weapons, using it to hit hidden catches and levers in weapons to activate any hidden features they might have.
My Weapons, they aren't always as they seem, but only i can control them
[m]
Sword Art:
As a martial artist it is only natural that Joshua learn the use of several weapons during his training, one of these weapons which he has now acquired is sword?s of a medium class (spatha?s to knight sword). This skill was taught to him by the spirit in his body which resembles that of a hawk. Through training he has developed a good proficiency with this class of weapon and has learnt to channel his Ki through it so that Ki specials can be released from the sword instead of his hand (eg ki fist activated at sword or shooting a ki attack from it) (medium)
[S]
Eye of Providence
: Once Josh could see a person's soul and then this was stripped away as his Ki Sight evolved beyond it's normal limits, now again his Sight has changed though be it a step forward or back Josh can't tell. His Ki Sight Still exists but now also stands the Eye of Providence. Through his eyes Josh now judges those he sees, by having the ability to see parts of their pasts lives, he can see their deeds of evil and their deeds of good and he weighs them, judging them. The result of the scales determines his actions especially in a fight, against the most innocent child Josh receives a minor boost to his strength and speed as everyone has done some kind of wrong in their life, however against a mass murderer or something worse this boost is far greater. As he became the Avatar for this new power energy flowed through his blody changing it, giving him a passive medium boost of both his speed and his strength. This boost will change slightly depending on the judgment of his opponent.
Be it lies, murder or deceit all the weights on your soul lie bared before the Eye of Providence
2nd Ki Control:
The 1st control was for the activation of features within Josh's items, this the 2nd control takes it even further, Josh can literally manipulate his weapons functions using Ki. For example the 1st Control allowed Josh to release and seal portions of Staff Jasmine and release the sword from within Yalan. The 2nd would allowed him to cause the chains in Jasmine to move on his will removing the amount of physical influence needed to control the weapon, Yalan he could change the speed or distance the sword shot from the staff. Of course the more he's fighting natural motion the more difficult/slow it is, of course anything too unnatural is at this time impossible. (for example fully controling the chain like a snake to attack or things like that) This skills allows for unnatural motion to be used in attacks that previously followed a natural and easily predictable course.
I am guided by the laws of Physics, but i refuse to be bound by them
(medium) (catalyst)
3rd ki control manipulation:
Josh draws closer to the unity of mind body spirit be the tools he uses. The third control solidifies the previous two control lessons increasing the manipulation of anything Josh can channel his Ki through, his body, his items. 3rd control increases the strength of 2nd control, enhancing it. While still not completely snake like his ability to control his items is increased, even to the point of begin able to come them and lock them into position. While also opening a new tree of manipulation based abilities for Josh to learn. (medium) (catalyst)
Physical Spirit:
This skill increases the power of Josh's Ki abilities related directly to his physical strength. If he becomes stronger for a portion of his battle, like with his jewel, his Ki abilities ALSO becomes stronger and has a more damaging/powerful effect. Additionally, this works for future skills/abilities/items that further augment his natural strength. This works at 50% efficiency, if his strength increases by 100% his KI increases by 50%.
Man's strength is limited by his body, mine is defined by it
(Medium)
_____________________________________________________________
Explanation of the Guardians:
The Guardians are a highly secretive group of people who came together thousands of years ago with one thing in mind. ?To guard that which needs to be protected?. Guardians abhor violence and will try diplomacy before turning to their fist or their blade, but there are some acts which are inexcusable and then a Guardian will turn to their arts and beware anyone who stands in the way of them and what they are guarding. Guardian are easily recognizable by the black cloaks they wear, each Guardian has a unique symbol on their cloaks which is the identifier of who they are and some symbols because famous and well known around the land as that particular guardian becomes more and more well known. Everyone knows that the Guardians exist but none but the guardians actually know what their true purpose is, they could be the defenders of the world protecting it from destruction, they could be the destroyers of the world waiting for the right moment to strike or????? THEY COULD BE BOTH.
Biography:
The Guardian Ruling Council has only recently instated Joshua from trainee to full Guardian, but he is by far the most mysterious and for a guardian that is something. Not much is known about Joshua?s past and even less about him at all, on morning at the Guardian city a patrol found a baby lying on the ground with two tiger?s lying down beside him. When the patrol stumbled upon him the two Tiger?s rose and stared with their golden eyes into the eyes of the 5 men and 5 women who made up the patrol.
?Raise him as your own, or we shall visit you and you will be punished,? The Tiger?s said projecting their thoughts into the patrols heads. Then they turned and vanished into the woods without a second glance. Kirsten, one of the younger women of the patrol walked forward and went to pick up the child, but as the child opened its eyes and stared at her she gasped and backed away in fright, for the child?s eyes were more gold than those of the tiger?s. Kirsten recovered quickly and took the child back to the city, after that every member of that patrol played a major part in the raising of that child, this child found in the woods had 5 mothers and 5 fathers and he grew up and learnt how to fight as it appeared that his golden eyes were devoid of sight, but his apparent blindness wasn?t a hindrance, in fact before he learnt how to use his Ki Sight he was still a match for any other child of his age group and most older than him. But no one was really sure whether he could see or not because from and early age Josh learnt that people were disturbed by his eyes so he kept them shut except when he was using his Burning Gaze. By 17 he was better than any Guardian in exist even without weapons so he decided not to use any non martial weapon unless he absolutely had to so that he could enjoy the fight more. So the Guardian Council gave him his Cloak with the symbol of a white tiger head with golden eyes on the back. Then they sent him out into the world saying two things, ?protect?, ?make a name for yourself.?
So Josh began to do missions for the Guardian council as a junior guardian but he still kept a secret from the council. he had voices in his head, beings which lent him there strength and yet it was his in the first place...